Tag Archives:
community orchard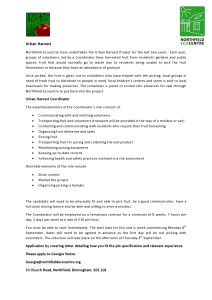 Urban Harvest is now well known in Birmingham for their fantastic work in collecting and utilising unpicked fruit in the Northfield are of the city.
They now have an Immediate vacancy for a co-ordinator for this years picking.
Please contact Georgia at Northfield Ecocentre, or follow the link here

It has been a while in getting there, Growing Birmingham are please to be able to make available for the first time a map of Birmingham's Community Gardens, Growing Spaces and Community Orchards.
The map is available here
We know this is by no means complete, and we can add to it all the time, so if your local space is missing and you want it adding then please let us know in a comment below or by e-mail to [email protected] 
Some of the spaces on the map already have more information linked to them, web site addresses and the like, we hope to add pictures too soon.
Mallard Community Orchard Flourishing
Back in chilly December Acocks Green Village in Bloom team began an ambitious project, to convert a piece of derelict waste ground to an oasis of greenery for the local community to enjoy.
As the theme of Britain in Bloom this year was 'edible planting' the idea of an orchard was soon formed.
Read More
First Dig – Community Orchard in Acocks Green
It is a widely held belief that through food we can create community!
It has also been said that some of society's problems are caused by people becoming disconnected from their community.  We have a wonderful scheme in Acocks Green which could address this problem.
Read More