Category Archives:
Growers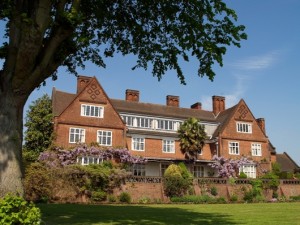 Digging for Dirt continues to grow and explore new and exciting ways to engage with Winterbourne's history, plant collections and projects – thanks in no small part to your support. If you enjoy a post, please continue to help spread the word by sharing on Facebook, Twitter and Pinterest by clicking the icons which follow at the bottom of each page:
All of this wet weather we have been having recently has meant that the weeds are grow
ing twice as fast and driving the gardeners mad. Have a look at last month's 'The Unmentionables' to find out how they have been coping and discover a different side to your everyday garden weeds through the work of cyanotype artist Anne Parouty: https://diggingfordirt.wordpress.com/2016/06/21/the-unmentionables/
After two years of planning, digging and planting 'Ovid's Garden' situated at the end of the Lower Lawn finally opened on a sunny Saturday in June complete with talks from its architects and a special performance by Roman pantomime theatre group Avid for Ovid. See how it went at: https://diggingfordirt.wordpress.com/2016/07/14/metamorphoses/
The writings of Gertrude Jekyll inspired much of Winterbourne's original design and indeed her theories of colour harmonisation continue inform our choice of herbaceous planting today. In this month's 'Snapshot' we find the colour blue in some surprising places: https://diggingfordirt.wordpress.com/2016/07/07/snapshot-blue/
Dodge the rain showers and get out into your own garden this month. There are plenty of great tips and plenty of photographs of some spectacular summer showstoppers in our 'July Notebook' : https://diggingfordirt.wordpress.com/2016/07/01/july-notebook/
Birchfield Residents Action Group have got a job vacancy for a Project Manager to be based at their Livingstone Road Community Allotment, the advert is below!
Part-time position based at Livingstone Road Community Allotment
Hours per week: 16 hours per week (Initially a fixed term 6 month contract with the possibility of an extension)
Salary: £10.41 per hour (Payroll managed by BVSC)
Birchfield Residents Action Group (BRAG) set up the Livingstone Road Community Allotment Project in 2010. The allotment project aims to involve and connect people of all ages and backgrounds to the natural environment and food growing, and also works with socially isolated people who live in the locality. The project currently receives funding from Birchfield Big Local for work with vulnerable adults at the allotment site and also for work with the wider community on Bloom in Birchfield – part of a national initiative to encourage local residents to take greater pride in their neighbourhoods. More information can be found at – www.livingstoneroadcommunityallotment.wordpress.com/
Livingston Road C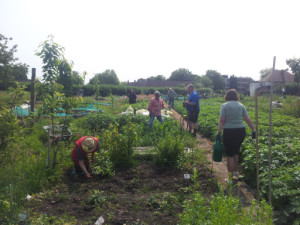 ommunity Allotment are having a Spring event on the 2nd April to launch a 'Friends of Bloom in Birchfield'. The event will run between 1-4pm and they are looking for volunteers to help them run the day! They want everyone who wants to see a cleaner and more beautiful Birchfield to join together under the 'Bloom in Birchfield' banner. Get down and get involved with what promises to be a brilliant day.
For more information please e-mail Rob at [email protected]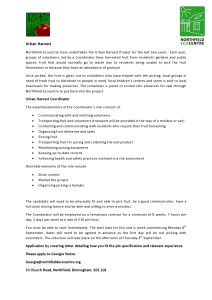 Urban Harvest is now well known in Birmingham for their fantastic work in collecting and utilising unpicked fruit in the Northfield are of the city.
They now have an Immediate vacancy for a co-ordinator for this years picking.
Please contact Georgia at Northfield Ecocentre, or follow the link here

It has been a while in getting there, Growing Birmingham are please to be able to make available for the first time a map of Birmingham's Community Gardens, Growing Spaces and Community Orchards.
The map is available here
We know this is by no means complete, and we can add to it all the time, so if your local space is missing and you want it adding then please let us know in a comment below or by e-mail to [email protected] 
Some of the spaces on the map already have more information linked to them, web site addresses and the like, we hope to add pictures too soon.
Urban Harvest Needs You! (Again)
Urban Harvest, now backed by Northfield Ecocentre, successfully raised its funding goal on crowdfunder…
… in fact they raised 105% of their target so CONGRATULATIONS!
Now? They need you to help find apple trees, pick apples and help stop fruit going to waste.
Read More
Following the success of our MacMillan Coffee Morning (£365 raised!) and Vegetable Show, it is now time to focus our attention on The Big Dig and Edible Garden Day.  Thornbridge Alotments are opening the gates once again to anyone and everyone who is interested in growing their own, plants, wildlife – essentially anything to do with the gardening.
We have an exciting new project, Urban Harvest. It's the project that finds good use for your surplus fruit, distributing it to people and preventing it going to waste.
It began a couple of years ago, but we need your help to make it sustainable.
If you're willing to offer support and/or invest £15 (or more) in this great project, please do go to our crowdfunding page here: http://www.crowdfunder.co.uk/urban-harvest
We're offering lots of rewards including fruit trees for your own garden, workshops on pruning and juicing, invitations to special events, plus other rewards throughout the eight weeks of crowd funding — and a special business offer to plant an orchard in your grounds.
Mallard Community Orchard Flourishing
Back in chilly December Acocks Green Village in Bloom team began an ambitious project, to convert a piece of derelict waste ground to an oasis of greenery for the local community to enjoy.
As the theme of Britain in Bloom this year was 'edible planting' the idea of an orchard was soon formed.
Read More
July  20th sees the launch of GIY UK:
"Our vision is for a healthier, more sustainable and more connected world where people grow their own food. We inspire and empower people to grow their own by bringing them together in community groups and online to share tips, advice and expertise."
Hear talks by experts and get your burning questions answered
Meet like-minded gardeners and food growers
Network with organisations who may be able to help and support your personal or community project.
Venue: University of Birmingham, Edgbaston, Birmingham, West Midlands B15 2TT, United Kingdom