Category Archives:
Community Orchard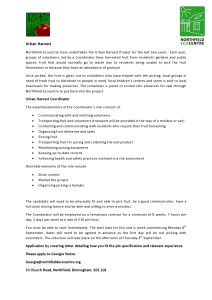 Urban Harvest is now well known in Birmingham for their fantastic work in collecting and utilising unpicked fruit in the Northfield are of the city.
They now have an Immediate vacancy for a co-ordinator for this years picking.
Please contact Georgia at Northfield Ecocentre, or follow the link here

It has been a while in getting there, Growing Birmingham are please to be able to make available for the first time a map of Birmingham's Community Gardens, Growing Spaces and Community Orchards.
The map is available here
We know this is by no means complete, and we can add to it all the time, so if your local space is missing and you want it adding then please let us know in a comment below or by e-mail to [email protected] 
Some of the spaces on the map already have more information linked to them, web site addresses and the like, we hope to add pictures too soon.
Urban Harvest Needs You! (Again)
Urban Harvest, now backed by Northfield Ecocentre, successfully raised its funding goal on crowdfunder…
… in fact they raised 105% of their target so CONGRATULATIONS!
Now? They need you to help find apple trees, pick apples and help stop fruit going to waste.
Read More
Mallard Community Orchard Flourishing
Back in chilly December Acocks Green Village in Bloom team began an ambitious project, to convert a piece of derelict waste ground to an oasis of greenery for the local community to enjoy.
As the theme of Britain in Bloom this year was 'edible planting' the idea of an orchard was soon formed.
Read More
Despite the cold and drizzle, a successful Big Dig event took place on 16th March in Acocks Green. Volunteers have been digging over this piece of derelict ground since December. The land had been untouched for 50 years and became a local dumping ground for rubbish and litter. After lots of heavy digging work, and getting rid of the couch grass, rubble and rubbish, this forgotten corner of Acocks Green was ready for planting a variety of fruit trees and shrubs.
Birmingham Food Growers NEED YOU!
On the 16th March food growing projects across Birmingham will be opening their doors, gates and sheds to locals in order to introduce you to their sites, start the growing year and get help from volunteers to complete a range of activities (tree planting, seed sowing, soil preparation and MORE!).  Across the city, 26 sites have signed up so far….more on the way.
If you want to find out what's happening there are lots of projects signing up http://bigdig.org.uk/Birmingham and offering lots of exciting activities and events for volunteers and locals. VOLUNTEERS WHO FILL OUT A REWARD CARD OF VOLUNTEER ACTIVITIES WILL BE ENTERED INTO A PRIZE DRAW!
First Dig – Community Orchard in Acocks Green
It is a widely held belief that through food we can create community!
It has also been said that some of society's problems are caused by people becoming disconnected from their community.  We have a wonderful scheme in Acocks Green which could address this problem.
Read More
Food Forest Brum is a project run by Spring to Life (a Community Interest Company). They work to promote personal and community wellbeing in Birmingham.
Their vision is to have an abundant sustainable Birmingham, with skilled and cohesive communities that connect with their land.
They aim to help fulfil this vision by working with local communities in establishing permanent food landscapes, providing plants, and skills, and bringing people together.
The Highbury Orchard Community, Kings Heath
The Highbury Orchard Community has grown from a seed of an idea back in the spring of 2010 to renovate the orchard of Joseph Chamberlain in Highbury Park, Kings Heath.
Physical work began in October 2010. Five months later a substantial amount of laid brick was uncovered, a relic of the original model farm which had once operated from the site.
Read More