About Us
Growing Birmingham is an information hub about horticulture and local food growing in the city — who's growing what and where.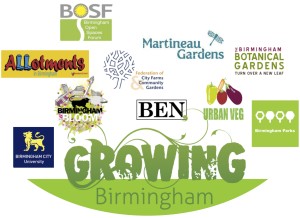 As you can see from the bunch of logos (left) it also hosts a lively committee of people representing various organisations in the city.
Growing Birmingham lists, promotes and generally celebrates all the wonderful people who grow fruit and veg here . . . in the city's 8000+ allotments, at the edges of some of our 600+ parks, in community orchards, gardens, plus veg patches in schools and in hospital grounds . . . and anywhere else you can tell us about.
how it all started: The Growing Birmingham website launched in April 2012, a spin-out from the New Optimists Forum (comprising 100+ regional scientists many involved in a scenario planning project exploring possible food futures for Birmingham in 2050 — see Part Three of the Birmingham 2050 Scenarios Project Report).
Jim Parle: Professor of Primary Care at Birmingham Medical School, local GP, allotment holder and great cook along with Darren Share (boss of the city's Parks) were also involved right at the start.