Category Archives:
Allotment holder
Birchfield Residents Action Group have got a job vacancy for a Project Manager to be based at their Livingstone Road Community Allotment, the advert is below!
Part-time position based at Livingstone Road Community Allotment
Hours per week: 16 hours per week (Initially a fixed term 6 month contract with the possibility of an extension)
Salary: £10.41 per hour (Payroll managed by BVSC)
Birchfield Residents Action Group (BRAG) set up the Livingstone Road Community Allotment Project in 2010. The allotment project aims to involve and connect people of all ages and backgrounds to the natural environment and food growing, and also works with socially isolated people who live in the locality. The project currently receives funding from Birchfield Big Local for work with vulnerable adults at the allotment site and also for work with the wider community on Bloom in Birchfield – part of a national initiative to encourage local residents to take greater pride in their neighbourhoods. More information can be found at – www.livingstoneroadcommunityallotment.wordpress.com/
Livingston Road C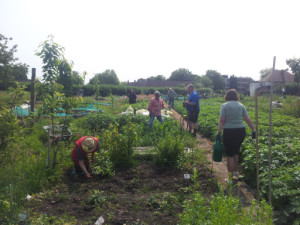 ommunity Allotment are having a Spring event on the 2nd April to launch a 'Friends of Bloom in Birchfield'. The event will run between 1-4pm and they are looking for volunteers to help them run the day! They want everyone who wants to see a cleaner and more beautiful Birchfield to join together under the 'Bloom in Birchfield' banner. Get down and get involved with what promises to be a brilliant day.
For more information please e-mail Rob at [email protected]
Following the success of our MacMillan Coffee Morning (£365 raised!) and Vegetable Show, it is now time to focus our attention on The Big Dig and Edible Garden Day.  Thornbridge Alotments are opening the gates once again to anyone and everyone who is interested in growing their own, plants, wildlife – essentially anything to do with the gardening.
The Villa scores a Green Apple Environment Award
Not many people know Aston Villa has its own allotment less than a couple of miles from the Holte End. But it does.
And 80 or so local youngsters from St George's Community Hub in Nechells play a big part in growing supplying super-fresh produce for the chefs at the Villa restaurant, run by VMF (Villa Midlands Food).
And now VMF has just won a Green Apple Environment Award to recognise the work they do in sourcing fresh produce in the inner city. Brilliant news!
The youngsters grew 750kg of spuds on the Nechells allotment in their first year. And in their second year, this year, they'll be growing a full range of veg, salads and herbs from 92 raised gardens and greenhouses at the site. The allotment also has four bee hives producing honey for the restaurant's deserts.
Read More
Growing chickpeas in Harborne
I sowed some chickpeas, from my kitchen cupboard, this year.  I shared them around: gave some to my neighbour, the gardening club at Lordswood Girls' School and my father, who lives in Cumbria.
We'll see how they do in these different locations.
Read More